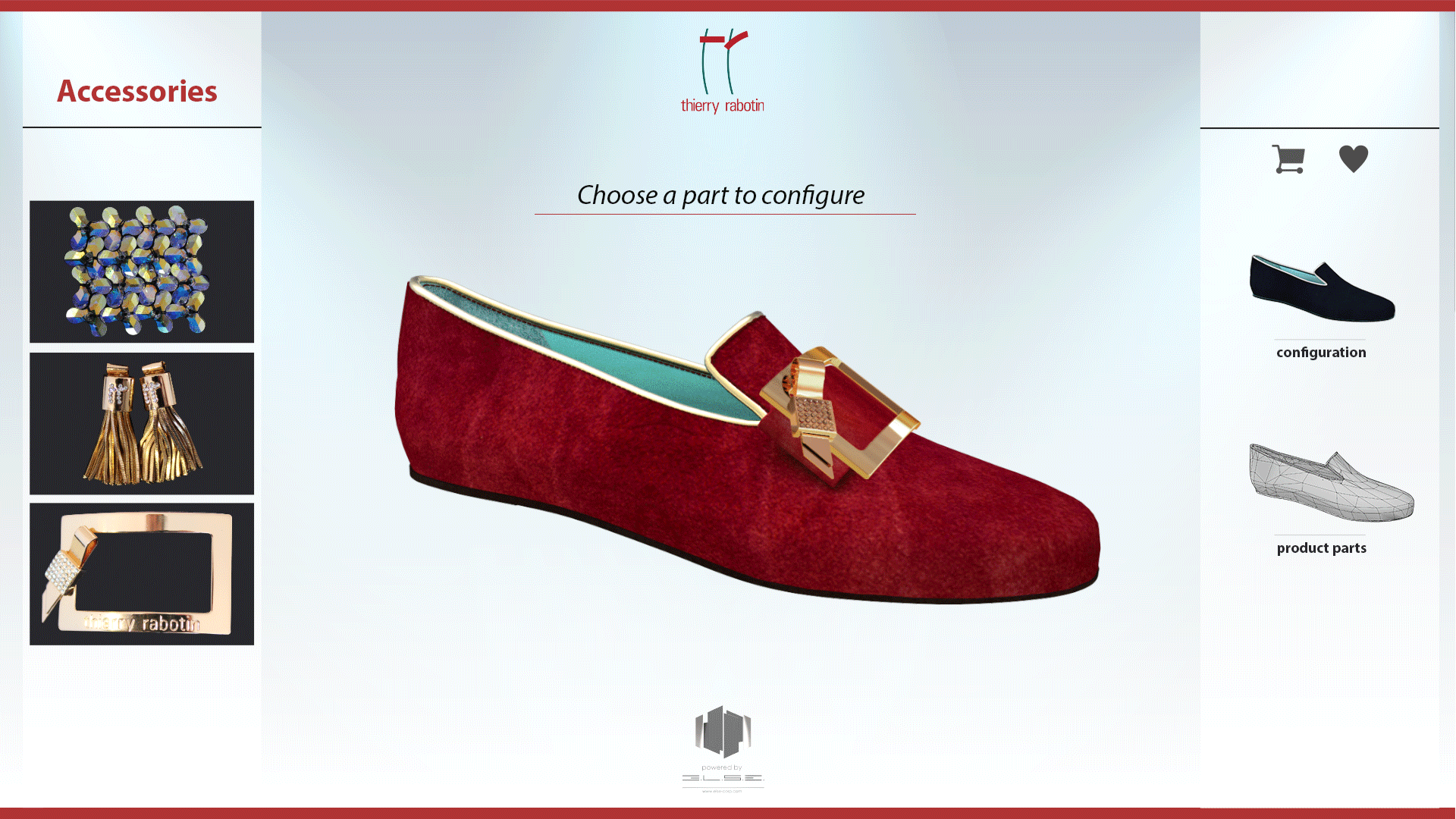 A screen from the Thierry Rabotin 3d shoe configurator powered by E.L.S.E. showing accessory options for the selected shoe
Seizing another opportunity to brainstorm and get feedback from buyers and sales partners, ELSE Corp returned to MICAM in a collaboration with Thierry Rabotin, our new industrial partner. Together with the brand, we showcased a demo of the new version of the E.L.S.E. Cloud based 3D Product Configurator and Made to Measure sales support platform, based on a proprietary, patent pending, MTO (made to order) process and the Customer Experience of Virtual Shopping.
THE THIERRY RABOTIN B2B BROCHURE. CLICK TO ENLARGE.
"Thierry Rabotin has found in ELSE Corp an ideal partner for develop and innovate its own idea of quality..."
The new version of the software featured improved 3D visualization modes & user interaction interfaces. Visitors got to experience and witness first-hand the core elements that are integral to deployment of the E.L.S.E. cloud platform in a physical space.
​
Virtual Boutique 3D app: the first point of contact with the E.L.S.E. platform - a digital representation of the brand's retail space, navigable via embedded hotspots

Virtual Catalogue 3D app: a navigable catalogue of all shoppable virtual products

3D Product Configurator: customers can view and select configuration options for a selected 3d product

3D foot scanner hardware & related tablet app: to gather the customer's measurements

Sales Assistant's tablet app: a remote device for the sales assistant to use to navigate through the options & make selections, register the client, manage their profile etc.
View the gallery below for pictures from the event
(click to enlarge)